Mysterious Robed Girl
From FlyFF WIki
This article has been certified complete as of version 13. Any errors should be reported here.
Travel Guide | Flaris | Saint Morning | Garden of Rhisis | Darkon 1,2&3 | Shaduwar | Valley of the Risen | Kaillun | Bahara Desert | Lodestar | Maps | Monsters/Masquerpets | NPCs | Zones
Mysterious Robed Girl
Location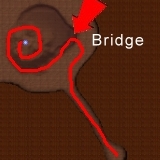 Continent:
Darkon
Area: Volkane Dungeon.
Information
Quests Available Master Quest and Hero Quest

She is here to test your metal, she wants to know if Madrigal is ready.
---
She is now offering new Quests for Masters levels 60-120
The Mysterious Robed Girl appeared of late. She has come to the Volkane Dungeon to present you with two new quests. For the players who have reached Level 120 and are beginning to think the game ends there, there is a new challenge for you to face. You can now travel to the Volkane Dungeon and seek out the Mysterious Robed Girl. When you find her, she will present you with the daunting task of becoming a Master. Once you've become a level 120 Master you can seek further advancement and start the Hero Quest. The Hero Quest is an extremely challenging quest that requires users to contribute some very rare items to the Mysterious Robed Girl, in exchange for advancement.
To find the Mysterious Robed Girl follow the path north northwest when you enter the dungeon. At the end of that path you can go either right or left, turn right. Advance maybe 20 yards and to the left you will see a bridge crossing the lava. Cross the bridge. Look to the left and there is a path that circles the mountain (Volcano). Follow this path (it circles to the right and goes all the way up to the top). If you are afraid of the agros stock up on some trans. It took me 1 4 minute trans to get to her. Don't forget to bring blinkwings for the voyage home.
Quotes
World Quote:
"Do have a question for me?"
Dialogue:
"Do you want to become more powerful?"
Who are you?:
"May Rhisis always keep her eye on you."
Goodbye:
"Hahaha It is kind of hard to explain myself. Hmmm~ Actually really hard now that I think about it."
Services
Hero Skill Leveling The new skill must be activated. To do so you must go the the Mysterious Robed Girl and chose the option to level up hero skill. A new window will appear, here place one of each jewel, Diamond, Emerald, Sapphire, Ruby, and Topaz.
Leveling your new Hero skill is like upgrading your equips. You sacrifice the five jewels for each attempt. The skill can be upgraded 5 times. Like in all upgrading this can fail. If so you keep the initiate level, you lose the jewels and must start over.

Related Pages
Important Game Information | Community | Cash Shop | Guide Portal | Character | World | Dungeons | Gameplay | Quests | Equipment Customization