Garden of Rhisis
From FlyFF WIki
This article has been certified complete as of version 14. Any errors should be reported here.
Travel Guide | Flaris | Saint Morning | Garden of Rhisis | Darkon 1,2&3 | Shaduwar | Valley of the Risen | Kaillun | Bahara Desert | Lodestar | Maps | Monsters/Masquerpets | NPCs | Zones
Garden of Rhisis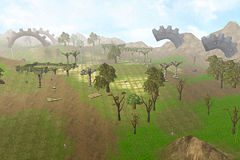 Map
History
The Past

The Garden of Rhisis are the remains of an old Paradise created by the Gods. It was a beautiful place, a perfect place, with no pain, hatred, feuds, or greed. The people would come here for picnics and such to admire the beautiful gardens created by the gods.
Once home to the most beautiful gardens the world has ever known. The Garden of Rhisis was destroyed in the war with Clockworks, and now all that remains is a graveyard of the once stunning horticultural achievement.


Present Day

No one visits the garden anymore, it stands as a symbol of what was once there. A graveyard filled with Masquerpets, and a history long forgotten by it's people.

It is located on the easternmost area of the map and borders Saint Morning.



Monsters


Related Pages
Important Game Information | Community | Cash Shop | Guide Portal | Character | World | Dungeons | Gameplay | Quests | Equipment Customization