Mercenary
From FlyFF WIki
This article has been certified complete as of version 18. Any errors should be reported here.
Achievements | Classes | Cloaks | Customizing | Equipment | Exp Table | Fame Titles | Items | Jewelry | Skills | Upgrading with Stat Dice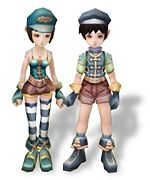 Description
The Mercenary class is normally the first choice of newer players. These hack and slash characters are easy to level and don't require much money to raise. Being basically just click and wait they make it easier to learn the game mechanics. There are many types of Mercenaries those going for Blade on second job would go mostly Dexterity. If you see someone who is but a blur as they hack away then most likely you have just encountered a Blade. Those going Knight would go more for Stamina. The Knight class is what most players fondly refer to when they speak of the human meet shield. These guys can take a hit.


Equipment
First Class skills are normally reserved for use only with Primary Weapons.
All classes may use previous class weapons. So Mercenarys may use Vagrant tagged weapons, but first class skills may not be accessible.
Weapons
The Mercenary can use Swords and Axes and may use Shields.
Armor
A complete List of Armor used in game can be found here.
Mercenary Skills
View individual skill pages for detailed information and skill animations
Mercenary Skills
Skill
Weapon
Level
Pre-Skill
Type
Region of Effect
Description
| | | | | | | |
| --- | --- | --- | --- | --- | --- | --- |
| Protection | Shields | 15 | None | | Self | Increases the defense of a Shield against melee attacks. |
| | | | | | | |
| --- | --- | --- | --- | --- | --- | --- |
| Slash | No Preference | 15 | None | | Selected Target only | Strikes the enemy two times, in rapid succession. |
| | | | | | | |
| --- | --- | --- | --- | --- | --- | --- |
| Keenwheel | No Preference | 18 | Slash 4 | | Selected Target only | A continuous spinning attack. |
| | | | | | | |
| --- | --- | --- | --- | --- | --- | --- |
| Hit Reflect | No Preference | 25 | Bloody Strike 8 | | Selected Target only | This skill absorbs one attack and releases back at an enemy. |
Speed Breaks

These figures are to be used as a guide. They are base stat points. Their exactitude may vary depending on weapons, buffs, awakenings, jewelery, etc. Results were taken from Jon's Sim
Primary
Primary
Axes
Swords
Normal
Normal
Lvl
Dex
AtkSpd
Lvl
Dex
AtkSpd
Useful Links

Back to Classes



Important Game Information | Community | Cash Shop | Guide Portal | Character | World | Dungeons | Gameplay | Quests | Equipment Customization