Billposter
From FlyFF WIki
This article has been certified complete as of version 18. Any errors should be reported here.
Achievements | Classes | Cloaks | Customizing | Equipment | Exp Table | Fame Titles | Items | Jewelry | Skills | Upgrading with Stat Dice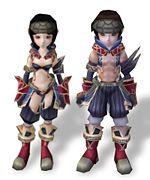 Description
One of the two Assist second classes. Billposters are the most self-reliant class in the game, able to use their Assist buffs to increase their ability and endurance. When Ringmasters aren't available, higher levels will probably look for a BP to powerlevel, because of their buffs. Billposters are one of the few classes in the game able to equip Shields for an added defense bonus.


Equipment
Second Class skills are normally reserved for use only with Primary Weapons.
All classes may use previous class weapons. So Billposters may use Assist and Vagrant tagged weapons, but second class skills may not be accessible.
Weapons
The Billposter can use Knuckles and may use Shields.
Armor
A complete List of Armor used in game can be found here.
Billposter Skills
View individual skill pages for detailed information and skill animations
Billposter Skills
Skill
Weapon
Level
Pre-Skill
Type
Region of Effect
Description
| | | | | | | |
| --- | --- | --- | --- | --- | --- | --- |
| Disenchant | No Preference | 120H | None | | Selected Target only | Removes all buffs from a tartget. |
Speed Breaks

These figures are to be used as a guide. They are base stat points. Their exactitude may vary depending on weapons, buffs, awakenings, jewelery, etc. Results were taken from Jon's Sim
Please remember that although I am including stats for non-primary weapon most new weapons are 2nd class restricted.
Primary
Non-Primary
Knuckles
Sticks
Normal
Master
Normal
Master
Lvl
Dex
AtkSpd
Lvl
Dex
AtkSpd
Lvl
Dex
AtkSpd
Lvl
Dex
AtkSpd
| | | | | | | | | | | | |
| --- | --- | --- | --- | --- | --- | --- | --- | --- | --- | --- | --- |
| 60 | 15 | 46% | 60M | 15 | 46% | 60 | 15 | 46% | 60M | 15 | 46% |
| | | | | | | | | | | | |
| --- | --- | --- | --- | --- | --- | --- | --- | --- | --- | --- | --- |
| 60 | 16 | 47% | 60M | 16 | 47% | 60 | 24 | 47% | 60M | 24 | 47% |
| | | | | | | | | | | | |
| --- | --- | --- | --- | --- | --- | --- | --- | --- | --- | --- | --- |
| 60 | 27 | 51% | 60M | 27 | 51% | 60 | 39 | 51% | 60M | 39 | 51% |
| | | | | | | | | | | | |
| --- | --- | --- | --- | --- | --- | --- | --- | --- | --- | --- | --- |
| 60 | 49 | 52% | 60M | 49 | 52% | 60 | 69 | 52% | 60M | 69 | 52% |
| | | | | | | | | | | | |
| --- | --- | --- | --- | --- | --- | --- | --- | --- | --- | --- | --- |
| 60 | 63 | 56% | 60M | 63 | 56% | 60 | 89 | 56% | 60M | 89 | 56% |
| | | | | | | | | | | | |
| --- | --- | --- | --- | --- | --- | --- | --- | --- | --- | --- | --- |
| 60 | 77 | 57% | 60M | 77 | 57% | 60 | 109 | 57% | 60M | 109 | 57% |
| | | | | | | | | | | | |
| --- | --- | --- | --- | --- | --- | --- | --- | --- | --- | --- | --- |
| 60 | 99 | 61% | 60M | 99 | 61% | 63 | 139 | 61% | 62M | 139 | 61% |
| | | | | | | | | | | | |
| --- | --- | --- | --- | --- | --- | --- | --- | --- | --- | --- | --- |
| 60 | 102 | 62% | 60M | 102 | 62% | 65 | 143 | 62% | 64M | 144 | 62% |
| | | | | | | | | | | | |
| --- | --- | --- | --- | --- | --- | --- | --- | --- | --- | --- | --- |
| 60 | 124 | 63% | 60M | 124 | 63% | 81 | 174 | 63% | 74M | 173 | 63% |
| | | | | | | | | | | | |
| --- | --- | --- | --- | --- | --- | --- | --- | --- | --- | --- | --- |
| 61 | 134 | 67% | 61M | 134 | 67% | 88 | 188 | 67% | 79M | 188 | 67% |
| | | | | | | | | | | | |
| --- | --- | --- | --- | --- | --- | --- | --- | --- | --- | --- | --- |
| 64 | 141 | 68% | 63M | 141 | 68% | 93 | 198 | 68% | 82M | 198 | 68% |
| | | | | | | | | | | | |
| --- | --- | --- | --- | --- | --- | --- | --- | --- | --- | --- | --- |
| 73 | 159 | 69% | 69M | 159 | 69% | 105 | 223 | 69% | 90M | 223 | 69% |
| | | | | | | | | | | | |
| --- | --- | --- | --- | --- | --- | --- | --- | --- | --- | --- | --- |
| 79 | 170 | 73% | 73M | 170 | 73% | 112 | 238 | 73% | 95M | 238 | 73% |
| | | | | | | | | | | | |
| --- | --- | --- | --- | --- | --- | --- | --- | --- | --- | --- | --- |
| 80 | 173 | 74% | 74M | 173 | 74% | 115 | 243 | 74% | 97M | 243 | 74% |
| | | | | | | | | | | | |
| --- | --- | --- | --- | --- | --- | --- | --- | --- | --- | --- | --- |
| 87 | 187 | 75% | 78M | 187 | 75% | | | | 103M | 262 | 75% |
| | | | | | | | | | | | |
| --- | --- | --- | --- | --- | --- | --- | --- | --- | --- | --- | --- |
| 93 | 198 | 76% | 82M | 198 | 76% | | | | 108M | 277 | 76% |
| | | | | | | | | | | | |
| --- | --- | --- | --- | --- | --- | --- | --- | --- | --- | --- | --- |
| 96 | 205 | 80% | 84M | 205 | 80% | | | | 112M | 287 | 80% |
| | | | | | | | | | | | |
| --- | --- | --- | --- | --- | --- | --- | --- | --- | --- | --- | --- |
| 98 | 208 | 81% | 86M | 209 | 81% | | | | 113M | 292 | 81% |
| | | | | | | | | | | | |
| --- | --- | --- | --- | --- | --- | --- | --- | --- | --- | --- | --- |
| 103 | 219 | 82% | 89M | 219 | 82% | | | | 118M | 307 | 82% |
| | | | | | | | | | | | |
| --- | --- | --- | --- | --- | --- | --- | --- | --- | --- | --- | --- |
| 107 | 226 | 83% | 91M | 226 | 83% | | | | 121H | 317 | 83% |
| | | | | | | | | | | | |
| --- | --- | --- | --- | --- | --- | --- | --- | --- | --- | --- | --- |
| 110 | 233 | 84% | 94M | 233 | 84% | | | | 121H | 327 | 84% |
| | | | | | | | | | | | |
| --- | --- | --- | --- | --- | --- | --- | --- | --- | --- | --- | --- |
| 114 | 240 | 90% | 96M | 240 | 90% | | | | 124H | 337 | 90% |
| | | | | | | | | | | | |
| --- | --- | --- | --- | --- | --- | --- | --- | --- | --- | --- | --- |
| 117 | 247 | 91% | 98M | 247 | 91% | | | | 128H | 347 | 91% |
Useful Links

Back to Classes



Important Game Information | Community | Cash Shop | Guide Portal | Character | World | Dungeons | Gameplay | Quests | Equipment Customization