Jester
From FlyFF WIki
This article has been certified complete as of version 18. Any errors should be reported here.
Achievements | Classes | Cloaks | Customizing | Equipment | Exp Table | Fame Titles | Items | Jewelry | Skills | Upgrading with Stat Dice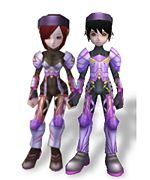 Description
At Level 60 the Acrobat has two choices for 2nd job change the Jester is one. Possessing a large range of attacks. Unlike the court jester of medieval times, these Jesters are masters of trickery and can be bloodthirsty fighters. They use Yo-Yo's along with dark magic to drain blood in order to replenish their own health, inject poison into foes, launch coins to dent enemy armor, and impair their victims by attacking vital organs. They receive four times as much Critical Hit Rate from the Dexterity stat than any other class. Jesters may use Bows but they will not have access to their skills.


Equipment
Second Class skills are normally reserved for use only with Primary Weapons.
All classes may use previous class weapons. So Jesters may use Acrobat and Vagrant tagged weapons, but second class skills may not be accessible.
Weapons
The Jester can use Yo-Yos and may not use Shields.
Armor
A complete List of Armor used in game can be found here.
Jester Skills
View individual skill pages for detailed information and skill animations
Jester Skills
Skill
Weapon
Level
Pre-Skill
Type
Region of Effect
Description
| | | | | | | |
| --- | --- | --- | --- | --- | --- | --- |
| Enchant Blood | Yo-Yos | 60 | None | | Self | Adds blood damage to your Yo-Yo and increases striking power. |
| | | | | | | |
| --- | --- | --- | --- | --- | --- | --- |
| Silence | No Preference | 120H | None | | Selected Target only | Target cannot use magic. |
Speed Breaks

Jesters receive an astonishing amount of Crit Rate per point of DEX. It is at level 119 and again at level 91M that a Jester would have the 250 stat points necessary to achieve 100% crit rate.

These figures are to be used as a guide. They are base stat points. Their exactitude may vary depending on weapons, buffs, awakenings, jewelery, etc. Results were taken from Jon's Sim

Please remember that although I am including stats for non-primary weapon most new weapons are 2nd class restricted.


Primary
Non-Primary
Yo-Yos
Bows
Normal
Master
Normal
Master
Lvl
Dex
AtkSpd
Lvl
Dex
AtkSpd
Lvl
Dex
AtkSpd
Lvl
Dex
AtkSpd
| | | | | | | | | | | | |
| --- | --- | --- | --- | --- | --- | --- | --- | --- | --- | --- | --- |
| 60 | 15 | 47% | 60M | 15 | 47% | 60 | 15 | 46% | 60M | 15 | 46% |
| | | | | | | | | | | | |
| --- | --- | --- | --- | --- | --- | --- | --- | --- | --- | --- | --- |
| 60 | 25 | 51% | 60M | 25 | 51% | 60 | 16 | 47% | 60M | 16 | 47% |
| | | | | | | | | | | | |
| --- | --- | --- | --- | --- | --- | --- | --- | --- | --- | --- | --- |
| 60 | 45 | 52% | 60M | 45 | 52% | 60 | 27 | 51% | 60M | 27 | 51% |
| | | | | | | | | | | | |
| --- | --- | --- | --- | --- | --- | --- | --- | --- | --- | --- | --- |
| 60 | 59 | 56% | 60M | 59 | 56% | 60 | 49 | 52% | 60M | 49 | 52% |
| | | | | | | | | | | | |
| --- | --- | --- | --- | --- | --- | --- | --- | --- | --- | --- | --- |
| 60 | 72 | 57% | 60M | 72 | 57% | 60 | 63 | 56% | 60M | 63 | 56% |
| | | | | | | | | | | | |
| --- | --- | --- | --- | --- | --- | --- | --- | --- | --- | --- | --- |
| 60 | 92 | 61% | 60M | 92 | 61% | 60 | 77 | 57% | 60M | 77 | 57% |
| | | | | | | | | | | | |
| --- | --- | --- | --- | --- | --- | --- | --- | --- | --- | --- | --- |
| 60 | 95 | 62% | 60M | 95 | 62% | 60 | 99 | 61% | 60M | 99 | 61% |
| | | | | | | | | | | | |
| --- | --- | --- | --- | --- | --- | --- | --- | --- | --- | --- | --- |
| 60 | 115 | 63% | 60M | 115 | 63% | 60 | 102 | 62% | 60M | 102 | 62% |
| | | | | | | | | | | | |
| --- | --- | --- | --- | --- | --- | --- | --- | --- | --- | --- | --- |
| 60 | 125 | 67% | 60M | 125 | 67% | 60 | 124 | 63% | 60M | 133 | 63% |
| | | | | | | | | | | | |
| --- | --- | --- | --- | --- | --- | --- | --- | --- | --- | --- | --- |
| 60 | 132 | 68% | 60M | 132 | 68% | 61 | 134 | 67% | 61M | 134 | 67% |
| | | | | | | | | | | | |
| --- | --- | --- | --- | --- | --- | --- | --- | --- | --- | --- | --- |
| 68 | 149 | 69% | 68M | 149 | 69% | 64 | 141 | 68% | 63M | 141 | 68% |
| | | | | | | | | | | | |
| --- | --- | --- | --- | --- | --- | --- | --- | --- | --- | --- | --- |
| 73 | 158 | 73% | 69M | 158 | 73% | 73 | 159 | 69% | 69M | 159 | 69% |
| | | | | | | | | | | | |
| --- | --- | --- | --- | --- | --- | --- | --- | --- | --- | --- | --- |
| 75 | 162 | 74% | 70M | 162 | 74% | 79 | 170 | 73% | 73M | 170 | 73% |
| | | | | | | | | | | | |
| --- | --- | --- | --- | --- | --- | --- | --- | --- | --- | --- | --- |
| 81 | 175 | 75% | 74M | 175 | 75% | 80 | 173 | 74% | 74M | 173 | 74% |
| | | | | | | | | | | | |
| --- | --- | --- | --- | --- | --- | --- | --- | --- | --- | --- | --- |
| 86 | 185 | 76% | 78M | 185 | 76% | 87 | 187 | 75% | 78M | 187 | 75% |
| | | | | | | | | | | | |
| --- | --- | --- | --- | --- | --- | --- | --- | --- | --- | --- | --- |
| 89 | 191 | 80% | 80M | 191 | 80% | 93 | 198 | 76% | 82M | 198 | 76% |
| | | | | | | | | | | | |
| --- | --- | --- | --- | --- | --- | --- | --- | --- | --- | --- | --- |
| 91 | 194 | 81% | 81M | 195 | 81% | 96 | 205 | 80% | 84M | 205 | 80% |
| | | | | | | | | | | | |
| --- | --- | --- | --- | --- | --- | --- | --- | --- | --- | --- | --- |
| 96 | 204 | 82% | 84M | 205 | 82% | 98 | 208 | 81% | 86M | 209 | 81% |
| | | | | | | | | | | | |
| --- | --- | --- | --- | --- | --- | --- | --- | --- | --- | --- | --- |
| 99 | 211 | 83% | 86M | 211 | 83% | 103 | 219 | 82% | 89M | 219 | 82% |
| | | | | | | | | | | | |
| --- | --- | --- | --- | --- | --- | --- | --- | --- | --- | --- | --- |
| 102 | 217 | 84% | 89M | 218 | 84% | 107 | 226 | 83% | 91M | 226 | 83% |
| | | | | | | | | | | | |
| --- | --- | --- | --- | --- | --- | --- | --- | --- | --- | --- | --- |
| 106 | 224 | 90% | 91M | 224 | 90% | 110 | 233 | 84% | 94M | 233 | 84% |
| | | | | | | | | | | | |
| --- | --- | --- | --- | --- | --- | --- | --- | --- | --- | --- | --- |
| 109 | 231 | 91% | 93M | 231 | 91% | 114 | 240 | 90% | 96M | 240 | 90% |
| | | | | | | | | | | | |
| --- | --- | --- | --- | --- | --- | --- | --- | --- | --- | --- | --- |
| 112 | 237 | 92% | 95M | 238 | 92% | 117 | 247 | 91% | 98M | 247 | 91% |
| | | | | | | | | | | | |
| --- | --- | --- | --- | --- | --- | --- | --- | --- | --- | --- | --- |
| 116 | 244 | 93% | 97M | 244 | 93% | | | | 101M | 255 | 92% |
| | | | | | | | | | | | |
| --- | --- | --- | --- | --- | --- | --- | --- | --- | --- | --- | --- |
| 117 | 247 | 94% | 98M | 247 | 94% | | | | 103M | 262 | 93% |
| | | | | | | | | | | | |
| --- | --- | --- | --- | --- | --- | --- | --- | --- | --- | --- | --- |
| | | | 101M | 254 | 95% | | | | 104M | 265 | 94% |
| | | | | | | | | | | | |
| --- | --- | --- | --- | --- | --- | --- | --- | --- | --- | --- | --- |
| | | | 102M | 257 | 100% | | | | 107M | 272 | 95% |
Useful Links

Back to Classes



Important Game Information | Community | Cash Shop | Guide Portal | Character | World | Dungeons | Gameplay | Quests | Equipment Customization