(Arena Store) Deek
From FlyFF WIki
This article has been certified complete as of version 13. Any errors should be reported here.
Travel Guide | Flaris | Saint Morning | Garden of Rhisis | Darkon 1,2&3 | Shaduwar | Valley of the Risen | Kaillun | Bahara Desert | Lodestar | Maps | Monsters/Masquerpets | NPCs | Zones
(Arena Store) Deek
Location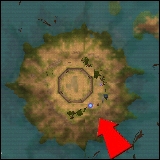 Continent: Unknown

Area: Unknown
Information
His shop is the only one in the PvP Arena
Deek sells stuff needed for battle. He tells you to be careful because in the Arena it is a free-for-all.
Quotes
World Quote:
"Anyone need any supplies? I got what YOU need!"
Dialogue:
"Once you step foot into the arena circle, you can be attacked by anyone at anytime, so watch your back!"
Who are you?:
"Nice to meet you, friend. My name is Deek and I sell various foods, Posters, MP recovery items, and Arrows. Let me know if you need anything."
Goodbye:
"Feel free to visit me again if you need some more supplies for the arena!"
Services
Shop Inventory
Food
Posters
| Item | Info. | Req. Job | Req. Lv. | Price (in Penya) |
| --- | --- | --- | --- | --- |
| Skill Poster | Needed to use certain Billposter skills. | Billposter | 60 | 50 |
| Bless Poster | Needed to use certain Ringmaster skills. | Ringmaster | 60 | 50 |
Magic Tools
Arrows
| Item | Info. | Req. Job | Req. Lv. | Price (in Penya) |
| --- | --- | --- | --- | --- |
| Arrows | A quiver of arrows. | Acrobat | 15 | 1 |
Related Pages
Important Game Information | Community | Cash Shop | Guide Portal | Character | World | Dungeons | Gameplay | Quests | Equipment Customization