Drian
From FlyFF WIki
This article has been certified complete as of version 13. Any errors should be reported here.
Travel Guide | Flaris | Saint Morning | Garden of Rhisis | Darkon 1,2&3 | Shaduwar | Valley of the Risen | Kaillun | Bahara Desert | Lodestar | Maps | Monsters/Masquerpets | NPCs | Zones
Drian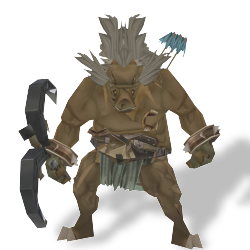 Location
Continent:
Darkon
Area: Dekane Mine.
Information
Quests Available Dekane Mine Quest

Level Requirement: 85 Drian will lead you through a series of quests, that will bring you deeper and deeper into the Dekane Mine
A mean looking dude, Drian is the self proclaimed patriarch of the Keakoon. He doesn't have much love for humans. He is the first Npc in the Dekane Mine Quest. Get used to his mug because you will see him a lot during this quest.
Quotes
World Quote:
Dialogue:
"Hrrmph! How strange... How did a human like you manage to get in here"
Who are you?:
"Hrrmph! I am Drian - Son of Nevil"
Goodbye:
Services
Related Pages
Important Game Information | Community | Cash Shop | Guide Portal | Character | World | Dungeons | Gameplay | Quests | Equipment Customization