Bloody Staff
From FlyFF WIki
This weapon is an Unique weapon.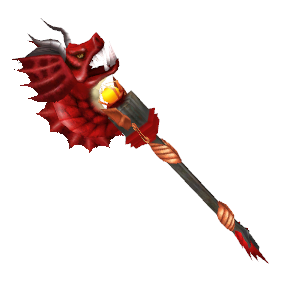 Two-handed weapon
Attack: 345 ~ 413
Attack speed: Slow
Added bonus:
Decreased Casting Time+15%
Increased Attack+20%
INT+19
Additional Damage to bleeding enemy+2%
Hit+10%
Required Job: Magician
Required Level: 120
NPC Price: N/A

Not available to purchase from NPCs.
Drops from the following Flyff Masquerpets:
Unique weapons can currently be obtained from Giant Monsters/Masquerpets or from the Crafting system. Can not be obtained from Boxes for the time being. Can not be obtained from a chain quest.
Related Pages